CADWELL TRACK WEEKEND
VMCC is pleased to announce PJ Insurance as a sponsor of this event.

Sep 10th - 11th 2022
The VMCC is delighted to confirm a two-day Track Weekend at Cadwell Park Race Circuit, nr Louth, Lincolnshire is open for bookings. This event will be held on September 10th and 11th and is open to all VMCC members with a driving licence - no race licence required. Only bikes over 25 years are elligible to enter.
There are sessions on both days for solo Road and Race machines broken into the following categories: Pre-1931, Steady, Intermediate, Fast and Very Fast. Pricing starts from £75.00 for entry into a minimum of two sessions on either Saturday or Sunday.
In addition to the track event, we have provided bookable space for the diverse range of Motorcycle Club stands who attend this event and there will be a Best Club stand Award - won by Benelli at this year's Festival of 1000 Bikes. Space for VMCC Sections Stands is free of charge and Camping across the weekend is available on-site at no extra charge, it is advisable to arrive early if you wish to camp.
1. Rider Booking
Bookings are being handled directly by Motorsport Vision (MSV) across the MSV website and we are using the MSV entry scheduling system. Numbers are limited and last year we sold out quickly. We suggest you enter now before it is too late.
Click below to book for each day:
VMCC Cadwell Park - Saturday 10th of September

VMCC Cadwell Park – Sunday 11th of September
To simplify entry registration all entrants will have a minimum of 2 sessions for a fee of £98.00 (£75 for pre-1931 bikes). Riders may enter on either Saturday or Sunday. If entering for both, a total of 4 sessions, the total cost will be £196.00 (£150 for pre-1931). If you wish to ride on both days Saturday or Sunday you will need to book a minimum of four sessions.
All entrants must be VMCC Members. Non-members can join the VMCC for £42.00 for a full year. This will, of course, give you eligibility to enter all VMCC run events over the next 12 months including discounted rates at the Festival of 1000Bikes in Summer 2023 as well as other VMCC member benefits.
Adding your VMCC membership number to the Riders Details will help us check entries.and may help avoid a query later.
Non-riding visitor booking is at https://cadwellpark.msv.com/CP-22-VMCC

Motorcycle Stands Club stands can book space and pay here
VMCC Sections can book stand space here
2. Amendments to existing bookings - moves & changes

Booking amendment can only be done by email to trackdays@msv.com - there is no phone option and VMCC does not have access to the booking system.
3. Tickets and passes
All tickets & passes are sent electronically - no risk of getting lost or delayed in the post. You will receive a confirmation mail of your booking. all further details will be sent by email nearer the time. Nothing will be posted.

4. Electronic Check-in and Mandatory Safety Briefing
Following receipt of your booking re commend you check-in as soon as you are able to register for the online briefing. You will be required to complete the online booking for each day you are riding. Please check your spam folder if you do not receive your confirmation email.
Saturday Check-In and Briefing
The Mandatory Safety Briefing will be open from 8:00 AM the day before your session using the same check-in link. For safety reasons, it is not possible to complete the Safety Briefing more than 24 hours before the event. All Riders are required to complete the Safety Briefing BEFORE signing on at the track.
4. FAQs and Other information
There are no sidecar sessions planned as, in accordance MSV rules, all passengers would be required to have a full ACU racing license. This proved to be unpopular with the sidecar entries last year and the sessions were scrapped at the last minute. If you wish to enter a sidecar and have a passenger with a full ACU racing license let me know at events@vmcc.net. If we have enough to warrant a session we may squeeze one in. Road sidecars are not allowed on track days at all.
Other parts of the event are being managed by volunteers including Steve Allen & Annie Durant who can both be contacted at
events@vmcc.net
.
If necessary, for any query not covered by the FAQs or that cannot be resolved by email, Annie can be called on 07484 647046.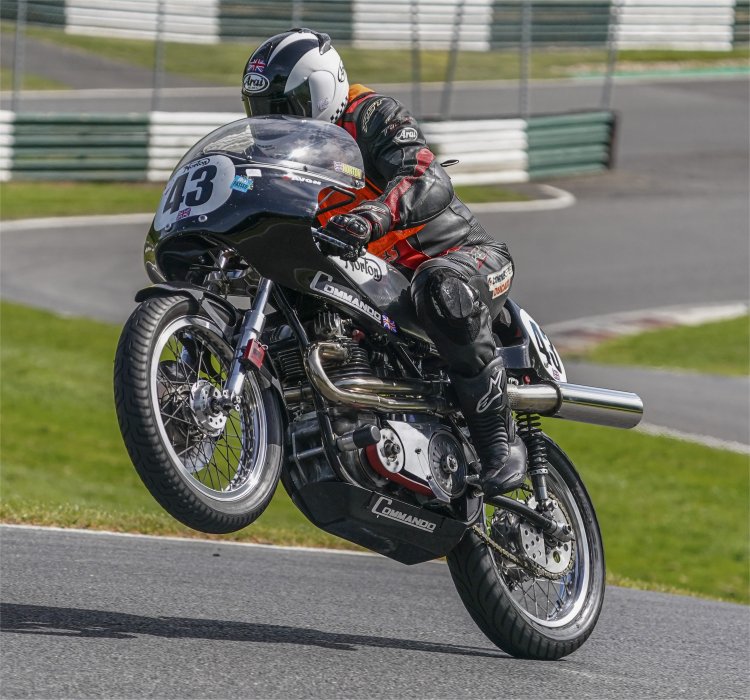 RIDER REQUIREMENTS

NEW for 2022 - All riders must be wearing a full-length back protector.

Cadwell Park new require ALL riders, whether racing or road, to wear a suitable Back Protector. We have located a number of sources where such items can be obtained and negotiated a discount arrangement if you mention you are a VMCC Member and entering the Cadwell Track event.
Summary of requirements

During your initial track day purchase you will have received an email booking confirmation with links to all the important info. Below is a brief summary of the essentials. At the bottom of the page is a link to the full terms and conditions;
Please arrive in plenty of time to complete registration.
Please ensure you bring your suitable licence.
Please bring your valid VMCC Membership Card
Please ensure your bike meets the noise requirement for this event. (105 DB(A) STATIC)
Bikes must be fit for the purpose.
Please ensure you are wearing either one-piece leathers or two-piece that zip all the way around. Gloves must be leather and reach beyond the wrist. A full-length back protector. Proper motorcycle boots (no metal toe sliders). Helmets must be full face and ACU gold stamp approved (not off-road style motorcycle helmets). Sparky knee sliders are not permitted.
Unless accompanied by an adult at all times, no persons under the age of 16 years old are allowed in any operational areas or controlled track areas. Under 16's are not permitted in the pit lane at any time.
Participants must listen and adhere to all briefings and safety instructions throughout the track day, including flags, signals or warnings from marshals or any other representative of MSV. The decisions of MSV are final. Timing is not permitted unless on an ACU-only test day.
The pulling of wheelies, or any other kind of riding which is considered by MSV to be a nuisance or dangerous is not permitted on circuit or anywhere on site.
No paddock bikes or other forms of unlicensed motorised transport are to be used on the venue at any time.
Cameras must be secured using a professional designed specifically for the purpose mount. Professional 'designed specifically for the purpose' suction/adhesive mounts need a secondary secure fixing such as a tether. Cameras cannot be mounted anywhere on the rider (including on the crash helmet) or on the top of the tank. The event team/pit lane marshals do still reserve the right to require adjustments or refuse use if they deem the camera equipment insufficient/unsafe.
No animals may be brought onto the premises, except registered guide dogs.
MSV's full terms and conditions can be viewed here. We hope you have a great time on the circuit.

CLUB STANDS

There will be space available for clubs to have stands and displays in the Paddock area. There is a small charge for this of £38.32 which includes 1 vehicle pass and 2 visitor passes. Club stands should be booked and paid for via the following link: Club Stand Registration. Additional visitor/guest passes can be purchased from the MSV - Cadwell Park web site.
VMCC sections may also have a stand/display. There is no charge for this but those wishing to have a stand/display must register using the form below so space can be allocated. each section stand will include 1 vehicle pass and 2 visitor passes. Register for FREE VMCC section stand/display at VMCC Section stand/display. Additional visitor/guest passes can be purchased from the MSV - Cadwell Park web site.
ADVERTISING/SPONSORSHIP
The VMCC is putting on this event for the many members who enjoy riding their road or race machine around a proper race circuit. Cadwell Park in Lincolnshire is regarded as one of the finest circuits in the country for rider enjoyment. If you are interested in advertsing in the programme for this event or sponsorship of the event in any other way please contact Events@vmcc.net or call Annie Durrant on 07484 647046 for further details.
Steve Allen Vice Chair
Annie Durrant Vice President – Major Events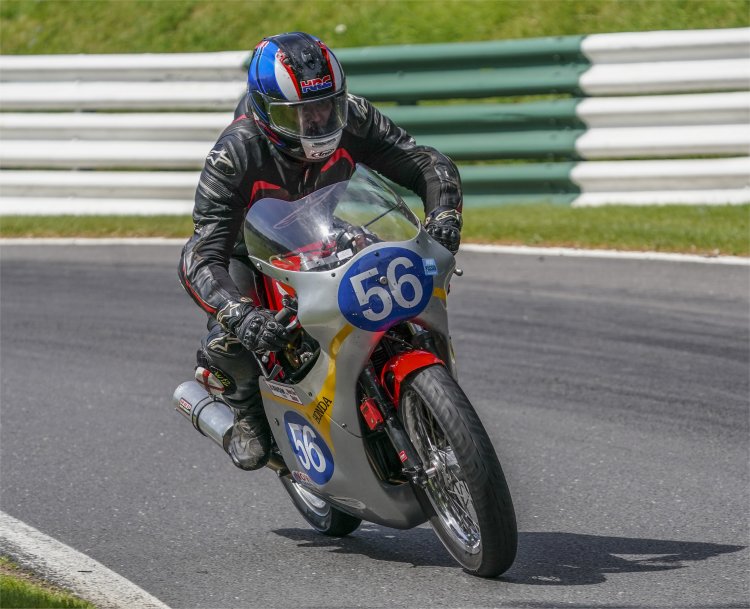 Sponsors of 2022 VMCC Track weekend