VMCC Motorcycle Sport
Motorcycle sport has always been central to the aims of the VMCC. After all, part of the organisations "mission statement" going back to 1946 states that. With non-territorial sections for Road Racing, Sprint & Grasstrack / Speedway and many geographical Sections putting on "mud plugging" Trials, almost every form of classic motorcycle sport is catered for by the Club.


VMCC BRITISH HISTORIC RACING
British Historic Racing is an integral part of the VMCC that holds Road Race meetings across the country for VMCC members and invited clubs. A wide range of historic motorcycles compete against each other in a range of events from pre 1934 solos, outfits & 3 Wheelers through to our exciting & fast growing BEARS series catering for machines from the 1980s. The Championship season runs from April though to September with each round taking place at various iconic circuits throughout the UK including Mallory Park & Cadwell Park.
For more information see British Historic Racings dedicated website www.britishhistoricracing.co.uk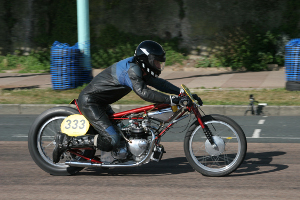 VMCC SPRINT SECTION
The VMCC has a very active Sprint Section that organisations a number of competitive "straight line" Sprints at venues across the UK. All classes and ages of machine are catered for from lightweight singles with girder forks to twin-engine supercharged nitro-burners! Even if you have an (ex) circuit-racer or just a road-going hack, there's a category that you'll fit into!
For more information see the Sprint Sections dedicated website https://www.vmccsprint.co.uk/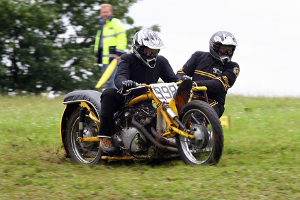 VMCC GRASSTRACK & SPEEDWAY SECTION
The VMCC Grasstrack & Speedway Section organise a series of Grasstrack & Grass Hill-Climb event with the occasional outing on professional speedway tracks.
For more information contact the VMCC Grasstrack Section Secretary Giles Dismore giles.dismore@btinternet.com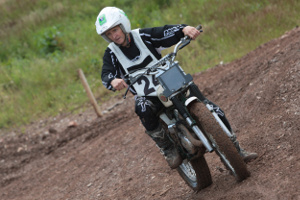 VMCC TRIALS
VMCC off-road "mud plugging" trials are held throughout the year by many of the VMCC's 86 geographical Sections around the UK. By becoming a VMCC member you have the opportunity to enter any one of these events because when you are a VMCC member you actually become a member of every Section!
The VMCC Taverners Leicester Section are great Trials exponents & you can find more details by visiting their dedicated trials website tavernerstrials.org.uk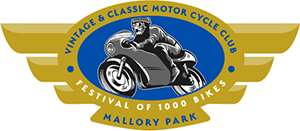 VMCC FESTIVAL OF 1000 BIKES
The internationally known VMCC Festival of 1000 Bikes showcases pretty much all of the above interests. The event features a competitive Trial, a straight- line Sprint demonstration and more road racing motorcycles from every era than at any other event in the world!
For more information see the Sprint Sections dedicated website festivalof1000bikes.co.uk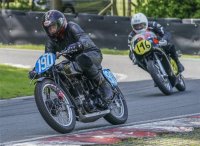 TRACK DAYS
The VMCC organises track days in collaboration with Classic Bike Track Days eabling members to enjoy the thrill or riding around several iconic circuits around the country. See VMCC Track Days for more details.