Brighton Speed Trials 2021
2021 Brighton Speed Trials will be running, however it will be doing so without the motorcycles due to safety concerns following an ACU track inspection, the findings of which prevented them from issuing a Track Certificate or Permit this year.
For further info please see https://www.facebook.com/vmccsprint/
It is with regret that we have to announce that the Motorcycle's will not be running at this year's BST.

The ACU inspected the track and have decided that on the grounds of safety, a track certificate and permit cannot be issued this year. Some of the reasons given were the green painted cycle lane the red painted pedestrian crossings. There are projections which have been moved during recent works and are a cause for concern to name a few, however, they have promised to proactively be in contact with the City Council to try to resolve these issues as they are keen to help us run in 2022. It is a great shame but we have to accept their decision. We must all remember that the safety criteria for cars is somewhat different for bikes.

The cars will be running and we always appreciate their kind invitation year on year and wish The Brighton and Hove Motor Club great weather and a fast, safe and successful day and look forward to returning in 2022.
75th celebration track weekend Cadwell Park

To celebrate 75 years since its creation in 1946 the VMCC will be at Cadwell Park on the 14th and 15th August. The event is being organised by British Historic Racing.
On both days there will be parades for road machines and racers, both solo and sidecar/3 wheelers. Some of the parades will be able to run with no noise limits, good news for those with exotic race machines and we are hoping to show a full range of VMCC eligible machines from early vintage up to modern classics, the event is open to both members and non-members of the VMCC .
For regulations. e mail cadwell752021@hotmail.com, download them below , or send a SAE to Roy Moore , 18 Stoneygate Drive , Hinckley , Leicestershire , LE10 1TD.
Click here for forms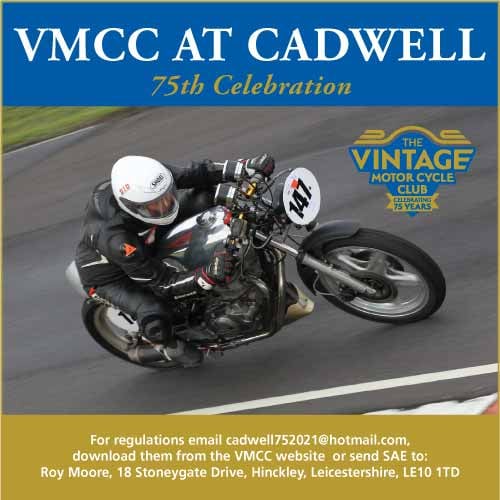 Banbury Run

It is with regret that we have decided that the Banbury Run will not take place this year. Given the current predictions on Covid 19 and the amount of work that would be required to run a large event that the authorities would allow, it would be impossible to keep the Banbury Run as our Premier event. We have looked at many alternatives like a simpler, smaller event or holding it later in the year, but we felt that any of the options would have diluted the spirit of the event. In addition, we need to make a decision now to give all participants as much notice as possible and before we undertake a large amount of administrative work and potentially incur non-refundable costs. The Banbury Run will return in 2022.

Events

The majority of VMCC events are non-competitive although some Sections organise ACU permitted timed road trials. As long as your machine is over 25 years old you can enter the Club's runs and events all over the country.
The British Historic Racing, the club's racing operation, has attained an enviable reputation for its efficient organization and the friendly atmosphere always found at race meetings which are held on circuits throughout the UK.
The Grasstrack and Speedway Section organizes a series of grasstrack and grass hill climb events together with the occasional outing on a professional speedway track. Sprint events are also in the calendar, including two which are very well known and to fill your season, invitations from other clubs allow you to enjoy a full year's sport.

For the latest on VMCC Events please click here...

The Banbury Run is the largest gathering of veteran and vintage machines in the world. Set amongst 65 acres of parkland just 12 miles north of Banbury, the famous Banbury Run is open to Veteran and Vintage machines manufactured before 1st January 1931.
Considered the World's longest running motor-sport event dating back to 1905, which has evolved into today's format of a standing-start ¼ mile sprint along Brighton seafront's Madeira Drive. Up to 200 cars and 75 motorcycles normally compete, and it's not unusual to have a mix of bikes entered from the 1920's or 1930's right up to current day!
The Classic TT is a natural spin-off from the Isle of Man TT. It gives fans and enthusiasts the chance to experience the history of the world's biggest motorcycle road race in real-time. Stars of today's TT race on the famous Mountain Course riding bikes that would otherwise be confined to museums and private collections.
Although the racing is spectacular – and sounds amazing too – there's a lot more to the Classic TT than the on-track action. Fans flock to the grandstand paddock carnival to mingle, enjoy the entertainment, soak-up the friendly and laid back atmosphere, check out the concours d'elegance and browse the many trade stands.
With the slightly more sedate pace of the programme compared to June's flat-out and hectic TT, the Classic TT has proved a great hit with family visitors, as well as those who prefer to set their own tempo. It's also a big draw for restorers, owners and riders of classic and vintage machinery. It's definitely a motorcycling event that should be on any bike fan's bucket-list.
The VMCC Festival of 1000 Bikes will not run in 2021, instead the VMCC is holding a 2 day track based 75th anniversary celebration event at Cadwell Park for members and non members. For regulations and entry forms please email cadwell752021@hotmail.com .
For information on previous 1000 bikes please visit the website at Festival of 1000 Bikes

Synonymous with 'The Taverners,' is Founders Day set in the scenic Stanford Hall grounds, it has become one of the major UK events in the 'old bike' calendar. From humble beginnings almost fifty years ago with just a hundred or so visitors and half a dozen people selling surplus bike bits out of their car boot or laid out on the obligatory 'paste table' the event has grown in to a vast slick and professional operation.
Originally the event took place on the area to the right of the driveway with a small 'arena' to the back of the hall, nowadays there is a large arena to the front of the hall along with an auto jumble nearing 300 pitches in number and taking up the whole area to the front of the hall. 'Happy' Hamrax is remembered as one of the first commercial paying companies to attend with money only changing hands if they'd had a good day - oh how things have changed!
Due to Covid the VMCC Training Days did not take place in 2020. If restrictions are relaxed we would like to run similar experience days later in the year. This will provide classic motor cycle enthusiasts with the chance to ride vintage hand-change machines including the VMCC's Reed Scott, Brough Superior SS80, Triumph SD plus many other machines kindly brought along by VMCC members.

Scarborough VMCC Touring Week
Supported by the East Yorkshire Section of the VMCC
Scarborough week will return at the Arosa Camp Site for 2020. The dates are Friday 19th June 2020 - Friday 26th June 2020 inclusive. Further details will follow in the club journal.
After many years based at Olivers Mount the 13th Scarborough VMCC Touring Week moved to a new venue in the village of Seamer, just five miles south west of Scarborough.
Now in it's 17th year the Scarborough VMCC Touring week revisits the Arosa Caravan and Camping park.
The hosts for the Scarborough VMCC Touring Week, Arosa Caravan and Camping Park are based in Seamer. Seamer is a small village which boasts pubs, restaurants, supermarket, post office and the regular bus service to Scarborough and surrounding areas just a small walk from the campsite.
Arosa (www.arosacamping.co.uk) has all the facilities you could wish for, a first class shower and toilet block with constant hot water, razor points and sockets for your own appliances and full launderette with drying facilities for after that wet ride. The licenced club house serves breakfasts and evening meals and there is also a recreation room with pool tables. Many pitches have electric hook ups available on a first come basis, and the owner has an onsite motorcycle workshop which could be availed by any unfortunate who breaks down. Although the site will be open to holiday makers during the touring week, we will have a five acre flat field largely at our disposal.
Entrants to the touring week can dip into as many of the planned activates as they wish, and with the change of venue there are some new routes along with a few old favourites. Places for the Scarborough Touring Week are limited to the first 175 on a first come first served basis. The event is open to VMCC members who are riding motorcycles, combinations or three wheelers, manufactured before 1994 complying with the Road Traffic Act. Passengers who are not members may be carried, and non VMCC members are welcome to come along and participate (event membership charges apply). The closing date for entries is the 8th June 201 and no entries will be accepted after this date.
Rates
Rider Entry Fee: £3.00 per day for those camping on site £4.00 per day for all others
Passenger Entry Fee: £3.00 per day
VMCC Event Membership £5.00
Camping
Caravans / Campervans: £12.00 per unit night
Tents: £10.00 per unit night
Entry forms are available by contacting Allen House or can be downloaded by clicking here.
Held over eight days, the VMCC Rally offers social runs, a regularity run, concours events, Prize Presentation and the hugely Popular Festival of Jurby. In addition, there is plenty of free time for you to enjoy the other great events that make up the Isle of Man Festival of Motorcycling, not least the Classic TT Races of which you will be invited to display and parade your machines.
The International West Kent Run is a 4 day event for riders and passengers of all makes of historic 2 or 3 wheeled vehicles. Entrants can enjoy organised rides through the Kentish countryside over the first weekend in August (3rd to 7th in 2017).
The event is based in Aylesford at The Friars, postcode ME20 7BX, click on LINKS above for a map. Camping facilities plus a few basic rooms in the Priory are available for entrants and partners only.
The Sunday is display or public day, which gives visitors the chance to see the magnificent machines.
Additional attractions include a gymkhana, a concours event, an avenue of clubs and an autojumble.
All proceeds from the Sunday event are donated to charity. For 2016 this was the Kent Air Ambulance.
Entrants please note the Country Code is the international vehicle registration code i.e. GB for the United Kingdom, NL for the Netherlands, etc.
For Autojumble and Avenue of Clubs forms please go to the REGS page.
Organised by the West Kent section of the Vintage Motor Cycle Club.