History

On 28th April 1946, a band of 38 enthusiasts assembled at the Lounge Cafe, Hog's Back, Guildford, Surrey, with the object of forming a Motor Cycle Club for owners of machines manufactured prior to 31st December 1930.
The majority of those who attended that meeting over 75 years ago had ridden there on Vintage machines and, despite very bad weather conditions, came from as far afield as Cheshire, Nottinghamshire, Shropshire and Leicestershire. The Press also attended and excellent photographs were obtained of the event. The Police and the AA also assisted in regulating the traffic and the parking of machines.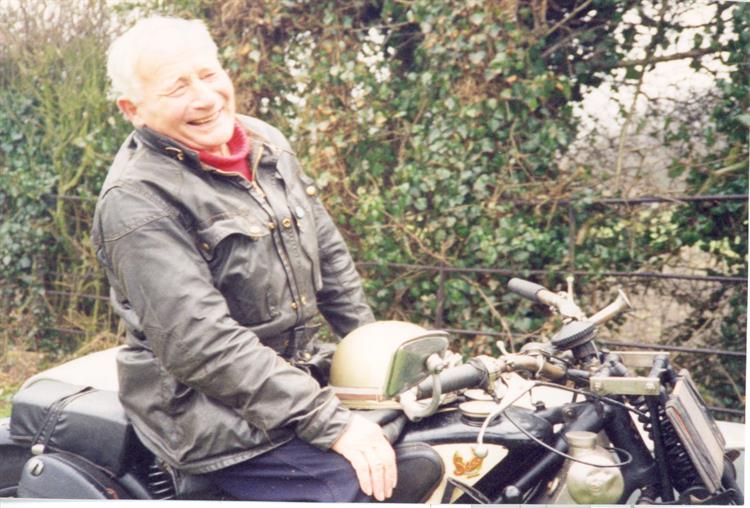 THE FOUNDER: Charles Edmund "Titch" Allen OBE, BEM 1915-2010
After lunch, 'Titch' Allen, who had been the promoter of this meeting, took the chair and outlined his ideas. His main objective was to promote the use and preservation of 'Vintage' machines and from his vision, the Vintage Motor Cycle Club was formed.

Initially, membership was restricted to owners of motorcycles manufactured prior to 31st December 1930, solos or sidecars, but not three-wheelers, and the idea that someone without a motorcycle should be able to join provided that they acquired a suitable motorcycle within six months was firmly rejected. It was hoped that the Club's activities would include Rallies, Hill Climbs, Trials, a Workshop and Museum, a Library, a Sales and Wants system for spares and motorcycles, Insurance for difficult cases, a free of charge Bulletin and an Annual Dinner. As the years have passed by, many of the activities envisaged on that day have materialised and are now accepted as the 'norm' by VMCC members. Without the vision of those Founder Members of the Club, motorcycling history would not have been preserved. Membership today stands at over 12,000 - but this has been achieved without losing any of the camaraderie or helpfulness usually associated with smaller clubs.
Today the club is open to members with or without machines, it encompasses any motorcycle over 25 years old on an annual rolling basis and includes three-wheelers. This ensures that each year new and exciting machines become eligible for events and rides, although some, such as the famous Banbury Run, are still limited to specific ages and classes of machine at the discretion of the organiser.
THE FOUNDER Charles Edmund "Titch" Allen OBE, BEM 1915-2010
For more information on many of the unique benefits that can be gained from becoming a member of the VMCC visit the dedicated Join Us page.
VMCC Roll of Honour
| | |
| --- | --- |
| Year | Name |
| 1946-1950 | Captain J. J. Hall |
| 1950-1953 | R. N. Judd |
| 1953-1957 | Brig. C. V. Bennett OBE |
| 1957-1959 | C. E. Allen BEM |
| 1959-1961 | E. E. Thompson |
| 1961-1964 | P. A. Moffat |
| 1964-1965 | J. Stuart-White |
| 1965-1967 | H. G. Tyrell-Smith |
| 1967-1969 | W. D. Bell |
| 1969-1971 | A. J. Mortimer |
| 1971-1973 | J. P. Griffith |
| 1973-1975 | W. Green |
| 1975-1977 | W. J. Rotherham |
| 1977-1979 | T. F. Wootton |
| 1979-1981 | I. Rhodes |
| 1982-1984 | W. J. Flew |
| 1984-1986 | W. E. Hume |
| 1986-1988 | I. Young |
| 1988-1989 | K. Hallworth |
| 1989-1990 | P. Beaney |
| 1990-1991 | F. P. Heath |
| 1991-1992 | G. H. Hallard |
| 1992-1993 | M. J. West |
| 1993-1994 | D. R. Mitchell |
| 1994-1995 | Mrs C. M. Nash |
| 1995-1996 | J. V. Moore |
| 1996-1997 | L. G. Ore |
| 1997-1998 | Dr. R. N. Hill |
| 1998-1999 | S. J. Jenkin |
| 2000-2001 | G. Davies |
| 2001-2002 | Mrs R. A. Davy |
| 2002-2003 | F. Dolman |
| 2003-2004 | R. G. Blackwell |
| 2004-2005 | G. Brazendale |
| 2005-2006 | P. C. Vines |
| 2006-2007 | D. M. Davies |
| 2007-2008 | H. A. Wiles |
| 2008-2009 | Mrs B. Barber |
| 2009-2010 | C. S. Seaton |
| 2010-2011 | W. C. S. Phelps |
| 2011-2012 | C. Bell |
| 2012-2014 | V. R. Blake |
| 2014-2016 | T. J. W. Penn |
| 2016-2018 | R. Hann |
| 2018-2020 | A. Alexander |
| 2020-2022 | M. Wills |
| 2022- | John Holt |
Year
Name
1946

C. E. Allen BEM
H. C. M. Beaumont
Brig. C. V. Bennett OBE
W. Boddy
A. B. Bourne
H. E. Cohen
A. M. MacLachlan
F. A. McNab
G. W. Walker

1947
C. S. Burney
G. Bradshaw
1948
C. J. H. Day
A. R. Lowry
T. A. Roberts
1950
R. A. Beecroft
L. P. Peters
F. W. Prescott
M. F. Walker
1952
C. A. Lewis
I. V. Mutton
1954
M. McEvoy
1960
H. R. Fowler
H. Karslake
H. G. Tyrell-Smith
1963
G. S. Davison
J. R. Stuart-White
1967
J. R. Boulton
P. M. Chilvers
Mrs A. Moffet
W. H. Wilshere
J. W. Robbs
1968
E. A. Hewett
1969
J. P. Griffith
1974
W. E. Hume
1976
D. MacDiarmid
A. J. Harper
1977
G. A. T. Brett
1978
L. H. Wills
1979
F. E. D. Burke
A. S. Doughty
S. L. Halsall
1983
W. L. Henshaw
1984
R. T. Dent
1985
R. F. Currie
F. P. Heath
R. H. Platt
J. R. Walton
1986
D. Earnshaw
K. Hallworth
1987
P. J. Morrissey
L. G. Ore
1988
Mrs A. Heath
1989
L. Cole
R. H. Derrick
D. W. James
1990
E. L. Collin
1992
S. J. Jenkin
S. Woods
1993
J. W. Lincoln
1994
M. R. Jaggard
J. Mitchell
1995
D. M. McMahon
1996
C. Hunter
J. Sizer
1999
R. N. Weekes
J. Davies
2019
C. Bell
2000
H. V. Sucher
2001
T. Richardson
2005
B. L. Cosgrove
2010
P. F. Davy
2012
A. Donnithorne
2014
Mrs B. Barber
2017
Mr R. Wright
2022
Mrs A. Durrant
R. Clark
G. Sleeman
Mrs K. Sleeman
Dr K. German
J. Makison
R. Minto
K. Gibbons
C. Bennett
P. Robotham

In Grateful acknowledgement of the VMCC members whose bequests have helped promote the aims and ideals of our club
| | | |
| --- | --- | --- |
| Year | Name | |
| 1999-2000 | Mr Bill Sheppard | Bristol |
| 2002 | Mr Norman Reed | Manchester |
| 2003-2005 | Mr Richard W.Twist | Solihull |
| 2010 | Mr S. Poole-Hallworth | Stockport |
| 2011 | Mr David Blanchard | Bexhill on Sea |
| 2011 | Mr Edgar Mears | Wolverhampton |
| 2011 | Mr George Moore | Guildford |
| 2011 | Mr Harold Freeman | Jersey |
| 2017 | Mrs Joyce Cobbing | Newent |
| 2018 | Mr Haydn Layton | Cumbria |
| | |
| --- | --- |
| Steve Allen | Ben Allen |
| Archie Beggs | Mrs M. D. Rotherham |
| T. F. Wootton | M. Worthington Williams |
| Ian Young | J. MacCauley |
| Colin Bell | Tony Cowley |
| A. Collett | G. Davies |
| A. Johnson | Bette Barber |
| Dr Reg Eyre | |