75th Anniversary Events


Cadwell Park Track Weekend

To celebrate 75 years since its creation in 1946 the VMCC will be at Cadwell Park on the 14th and 15th August. The event is being organised by British Historic Racing.
On both days there will be parades for road machines and racers, both solo and sidecar/3 wheelers. Some of the parades will be able to run with no noise limits, good news for those with exotic race machines and we are hoping to show a full range of VMCC eligible machines from early vintage up to modern classics, the event is open to both members and non-members of the VMCC .
For regulations email
cadwell752021@hotmail.com
, download them below , or send a SAE to Roy Moore , 18 Stoneygate Drive, Hinckley, Leicestershire, LE10 1TD.
Click below for the forms.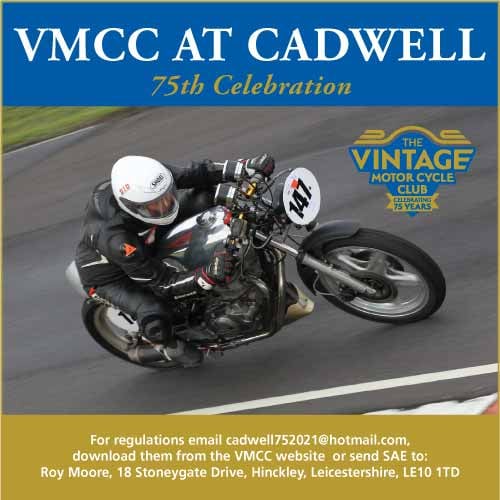 ---
North West Area 75th Event
The North West area of the VMCC are holding a 75th Rally at the Junction Pub, Rainford , Saint Helens WA11 7JX on Sunday 19th September. In the Marquee there will be eligible bikes on show for each year the club has been in existence. 1946 up to 1996. There will be bikes on displayed that the members would have ridden at the time the club was formed and there will be some girder fork models as well as the 'Flat Tankers'. For the modern rider there will be some of the more recent type of bikes on show. Ride-outs are planned for 3 different age group bikes pre 1945, 1946 to 1960 and '61 plus. All on different routes to suit the pace of the bikes. Each ride will have a recovery vehicle on standby. All sections of the North West Area are helping to present this show and it is open to all who wish to attend, Free to members on production of their membership card and a two pound donation from non-members. If you want to see the club's Dreadnought and Brough, come along and see some of Britain's best bikes produced.
Hot food and drink will be available all day as will be the delightful ale in the pub. Camping is available on the Saturday night for exhibitors. There is loads of parking space. Any more information you can either contact Alex Graham on 07582966522 or North West Rep Mike Griffiths on 07729888631
---
North East Area Grand Ride Out
**CANCELLED DUE TO RESTRICTIONS**
Come and join the North East Area Sections on our "Grand Ride Out".

We are keen that members who live in the North East Area but who do not get to sections meeting join us on the day for lunch. Along with anyone else who fancies the ride to two great locations, from elsewhere in the country.
The NE Area covers from the Sheffield area across to the East Coast of Lincolnshire via Lincoln, then heads north bounded by the Pennines and the sea up to the Scottish boarder.
Both of the locations have been selected due to abundance of locations to get lunch and available space to park motorcycles.
Fingers cross for good weather and hope to see you there.
Neil Lewis NE Area Rep and the Section Committees from Reivers, Northumberland, South Durham, North East, Wakefield & West Yorkshire, East Yorkshire, Sheffield and Mid-Lincs.
Contact northeast@vmcc.net
---
The Nation Way Point Rally
It is an event conceived to comply with the Covid Rules that are assumed to be in place this summer. The sections have nominated locations in their area worthy of visiting on a motorcycle – the Way Points, selected for interest, the view or just a good place to get a bacon sandwich.
It will run from mid-June to mid-September.
Members are invited to visit the Way Point as a destination for informal (or formal) rides in groups (subject to national/local Covid Rules. Ideally you will be able to undertake runs throughout the summer, to the Way Points. Running over 3 months should allow good weather riding and some great photo opportunities.
The list of Way Points, the rules for claiming them and photography competition are in the downloadable pdf, or by e-mailing nwp@vmcc.net.
The event is part of our 75th Anniversary year, so is run to encourage to get out on our bikes, no entry fee will be charged.
Click below for the handbook.
The National Way Point Rally Handbook 1.4