Girder Fork Experience

VMCC Flat Tank Section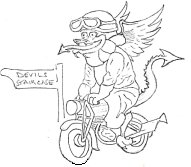 Invites you to the Mid Wales Girder Fork Experience, September 9th and 10th 2023, at Cilmery, Nr Llanfair ym Muallt (Builth Wells. Powys)
Cilmery, sometimes spelt Cilmeri, is a village in the county of Powys, mid Wales. Lying 2 miles west of Builth Wells and south of Newbridge on Wye, the village is bound by two rivers, Afon Chwefri and the Afon Irfon. The Afon Irfon is famed for the Prince of Wales, Llywelyn Ein Llyw Olaf, being killed on its banks in December 1288.
Experience the beautiful Mid Wales Countryside, restricted to bikes with girder forks. Ffree on site basic camping/caravanning available from Friday 8th through to Monday 11th September.
A list of alternative local accommodation is available.
Download GFE Regulations & Entry Form V5
Entry Form (PDF) Complete and post or scan and email
Entry Form (MS Word) Complete and email
DESCRIPTION
The Social Run routes will consist of about 80 miles of quiet roads in Mid Wales. Shorter routes of about 30 miles will be available Detailed route cards will be provided. Some parts of the route may be marked, but the onus of finding the correct route will rest entirely with the rider/driver. There will be a stop before lunch, after which the run will then return to Cilmery.
SAFETY
The VMCC recognises the health and wellbeing benefits of motorcycling to our members. Motorcycling can be dangerous. The VMCC safely organises over 1000 motorcycles riding events on the public road each year mainly through its network of 85 Sections and attended by its 13000 members. Our safety record is impeccable, partly though the high levels of experience and knowledge of participants, and secondly through up to date and comprehensive risk management procedures.
Rider Assistance
For the safety and comfort of our members, event organisers may be able to help participants who have broken down. Volunteers acting as "Good Samaritans" without remuneration (petrol, if required, will be charged at pump prices) will be on hand to assist participants in distress reach a place of safety quicker than professional services. At the girder fork event there will be a volunteer with a van following the bikes which will contain items to (hopefully) get you moving again should you stop. If, however, you suffer catastrophic mechanical failure, you and your bike may be offered a lift to the site in Cilmery, where it will be your responsibility to continue your journey.
CHANGE OF MACHINE
Any change is to be notified to the Organiser when signing on. Any change must be to a machine that qualifies for the event. VMCC machines may be available at the event.
PROGRAMME
Each day the run will Start from the site at CILMERY, POWYS,LD2 3FA at 10:00am Please collect all route cards by 9:30am at the very latest.
SATURDAY
The route will be a run on scenic, quiet, minor roads through Mid Wales to a refreshment stop at the Two Hoots Café, Devils Bridge, then by scenic roads to a coffee stop at the Elan Valley Visitors Centre, before returning to Cilmery. An opportunity to drive a steam train may be possible at the Two Hoots Café. The route is approximately 75 miles. A shortened route of approximately 50 miles taking in the Elan Valley will be available. A shorter route of approx. 30 miles will be available each day
SUNDAY
The route will be ran on scenic, quiet, minor roads through Mid Wales. We will ride to Beulah, Progressing up the Abergwesyn pass to the challenging "Devil Staircase". From here we will travel down the side of "Llyn Brianne" stopping at the Dam for a break, refreshments maybe available. After refreshments we will continue to the lunch stop at the "Owls Nest" in Llandovery. After lunch the route takes us on quiet roads to Llewel . Crossing the A40 we continue over the MoD ranges, riding on part of the course used for the Welsh TT races we then continue to the finish in Cilmery. The route is approximately 80miles.
LOCAL ACCOMODATION LIST
Self-Catering
1. Pwllgwilym Cottages Llanafan Road, Cilmery, Builth Wells LD2 3NY Tel: 01982 552140 Email: bookings@pwllgwilym-cottages.co.uk pwllgwilym-cottages.co.uk
2. Cwm Irfon Lodge Abergwesyn Road, Llanwrtyd Wells LD5 4TN Tel: 01591 610849 Email:info@cwmirfon.co.uk cwmirfon.co.uk
Camping
3. Irfon River Leisure Park Upper Chapel Road, Garth, Near Builth Wells LD4 4BH Tel: 01591 620310 Email:jenny@irfonriver.co.uk irfonriver.co.uk/
4. Riverside Caravan and Camping Park Llangammarch Wells, Builth Wells LD4 4BY Tel: 01591 620465 / 07519 357933 Email: info@riversidewales.com riversidecaravans.com/ VMCC Flat Tank Section
5. Llewelyn Park Cilmery, Builth Wells LD2 3NU Tel: 01982 553352 Email: llewelynoffice@berkeleyparks.co.uk facebook.com/llewelynpark
Hotels / B&B / Inns
6. Llanwrtyd Hall Station Road, Llanwrtyd Wells LD5 4RW Tel: 01591 610888 / 07961 315785 llanwrtyd-hall.business.site
7. The Neuadd Arms Hotel The Square, Llanwrtyd Wells, LD5 4RB Tel: 01591 610236 Email: enquiries@neuaddarmshotel.co.uk neuaddarmshotel.co.uk
8. Bonna's Bed and Breakfast 5 Irfon Road, Builth Wells LD2 3DE Tel: 01982 552923 / 07891 899793 Email: bonna@builthbedandbreakfast.co.uk builthbedandbreakfast.co.uk/
9. Bronwye Guest House Church St, Builth Wells LD2 3BS https://bronwye.co.uk/en-GB
10. Erris Villa Hospital Road, Builth Wells LD2 3AT Tel: 01982 553714 / 07929000595 Email: stay@errisvilla.co.uk errisvilla.co.uk/
Eating Out
11. The Prince Llewelyn (nearest) Cilmery, Builth Wells LD2 3NU Tel: 01882 559429 Email: theprincecilmery@gmail.com https://www.facebook.com/Theprincecilmery/
12. Builth Wells (approx. 3 miles away) has several restaurants, inns and takeaways