LMC (Lloyd Motor Engineering Co. Ltd.)
In 1907 Walter John Lloyd, then a Director/Partner of Quadrant Cycle Co. Ltd., resigned from Quadrant after a dispute with fellow Director and well known racer Tom Silver, and set up his own company and factory to produce motorcycles under the LMC brand which he operated from July 1907 to1923.
The new company was named Lloyd Motor Engineering Co. Ltd and factory premises were at 132 Monument Road, Ladywood, Birmingham U.K.
Because his brother William Arthur Lloyd (who had left Quadrant in 1903, following an earlier dispute, to start his own company called W.A. Lloyd Cycle Fittings Ltd) was making motorcycle parts and a few Antoine engined motorcycles was using the brand 'Lloyd', Walter Lloyd chose to brand his motorcycles "LMC".
Walter Lloyd had previous engineering experience having initially been a manufacturer of safety-pins from 1881 before joining his brother to manufacture bicycles in 1883 and in 1901 to the production of Quadrant motorcycles.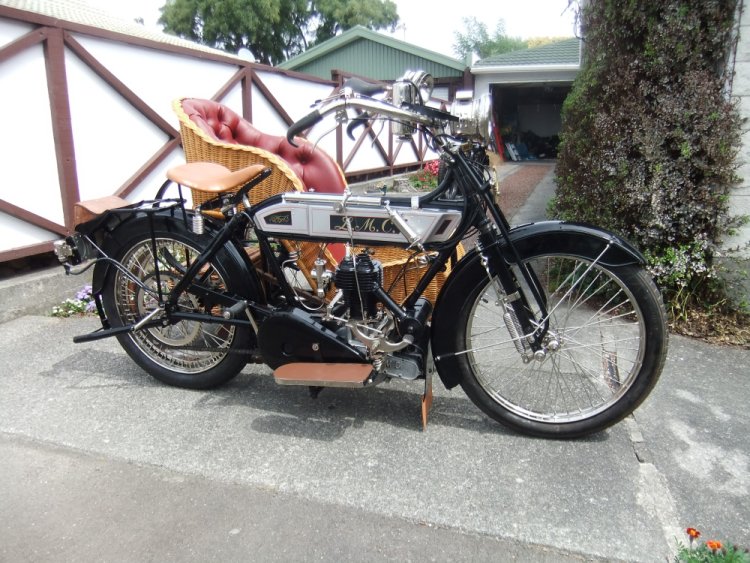 Walter Lloyd had very definite ideas of his own that he would incorporate into his motorcycle design. LMC was to have a reinforced frame headstock. The engine was to have roller crank bearings and gear driven magnetos. The front forks to have leading link suspension. The frame was to have good ground clearance and sprung foot-boards. He was to design these himself and he went on to patent 35 of his designs such as Auto-Varia variable Belt driving pulley. Some of those ideas are noted in the early Quadrant models. The LMC's most notable feature is its leading–link front forks. Because of its unique design there was no space to mount a front wheel stirrup brake so LMC to meet the legal requirement to have two independently operated brakes chose to operate two brake shoes on the belt drive rim. The lower shoe was operated by foot pedal and the upper shoe whilst it was operated by the same pedal was also independently operated by a lever on the RHS of the handlebars. Other unique LMC fittings were a pipette attached to the petrol tank cap to enable priming of the engine and a cam on the exhaust valve lifter attached to a lever mounted on the top frame rail to partially lift the exhaust valve to lower the compression for easy starting.
LMC decided early on to concentrate on the export market and from 1911 LMC offered a "colonial" model with a higher ground clearance of 1 inch more than the standard model because 'colonial roads were less developed'.
The other interesting feature of LMC was that that Walter Lloyd developed LMC as a bespoke manufacturer of motorcycles such that by 1912 LMC offered multiple options for almost every part of the LMC motorcycle. There were two frame styles a standard straight top rail, and a 'cob' style where the seat end of the top rail was lowered 3 inches to make it suitable for riders of shorter stature. Buyers had the choice of two engine capacities 3.5hp (499cc) or 4hp (572cc) the latter listed as being the offering suitable for side-cars. Druid forks could be had instead of Lloyd's patent leading link, four gearing options were available viz. Fixed drive, Lloyd patent Auto-Varia, Lloyd 2 speed countershaft (1st chain drive, 2nd belt drive),or a Sturmey Archer 3 speed hub gear. There were two belt types Dunlop or Lyso (UK) Whittle (overseas). Internal or external oil pumps of Davison or RS manufacture, Lucas or P & H lighting and interestingly two sizes of oil and petrol filler tank caps (1inch and 1.5 inch) and three saddle options Brooks, Lycett and X-All.
Keeping up with motorcycle development through the years Lloyd went fromfixed drive in 1907 to pedal assist in 1910 to a push down footboard starter in 1911 to kick starter on the countershaft gearing in 1912 and by 1915 LMC was offering a handle bar lever operated 3 speed Sturmey Archer countershaft gearbox with cork clutch and for engines the additional choice of a v-twin engine of 6-7hp (842cc).
LMC also continuously increased the capacity of their engines. Starting in 1907 with 3.5hp (499cc) single, followed in 1912 by a 4hp single (572cc) , in 1915 increased to 4.25hp (597cc). In 1915 a V-twin 6-7hp (842cc) became available, 1920 saw a V-twin 8-9hp (960cc) added.
In 1908 LMC offered a parallel twin of 2.75hp (350cc) with no cooling fins. This engine seems to have been unsuccessful and was not offered in following years.
LMC did not have any WW1 military motorcycle production contracts, (There is only one LMC listed in the military manifests and this seems to have been at an overseas depot) thus there was no known LMC motorcycle production from 1916-1918. When production was restarted in 1919, LMC 4hp models were initially listed for sale at 75 pounds the same model having been around 50 pounds in 1914. The increase price was due to the increased cost of raw materials. Sales were slow because manufacturers who had wartime contracts such as Triumph had developed mass production were able to offer their similar models at lower prices and accordingly LMC did not sell as well, especially in export markets, where the higher powered and technically advanced American makes were gaining market share. The effects of low sales saw LMC cease production in 1923. Estimated total production of LMC motorcycles from 1907 to 1923, calculated from surviving frame numbers, appears to have been between 2500-3000 motorcycles.
Sales were very strong with active sales agents in Australia, New Zealand and Japan. Sales were also recorded in Argentina, South Africa, Canada, Finland, Ireland and the United Kingdom.
LMC frames and engines are numbered with up to 4 numbers and a suffix letter, the latter is the year of manufacture. Frame numbers are found on the RHS of the seat pillar and engine numbers are found on the LHS crankcase rear support. Also the year the engine was fitted is stamped on the crankcase LHS. Suffix letter "A" denotes 1907. There have been no surviving frames found with the letters "B", "F", "I" . it appears that "A" carried through to 1908 and "E" was used in 1911 and 1912, probably because of over-production. It appears "I" was not used to avoid confusion with "1". Engine numbers 1-1999 was reserved for 3.5hp engines, 4hp. and 4.25hp number from 2001 up.
From 1912 LMC also stamped the forge date (Day/Month/Year) of the crankcase halves underneath their respective magneto platforms, and a mating code is etched in their interiors.
To date there are 38 known survivors (20 runners and 18 projects). The majority are in Australia and New Zealand and a lesser number in the United Kingdom with single numbers in The Netherlands, Finland and the U.S.A. Made up as follows-
2.75hp (350cc) Parallel twin1908 No Survivors
3.5hp (499cc) Single 1907-19152 5 Survivors
4.0hp (572cc) Single 1912-1914 4 Survivors
4.25hp (597cc) Single 1915-1919 2 Survivors
6-7hp (842cc) V-twin 1915-1923 1 Survivor
8-9hp (960cc) V-twin 1920-1923 1 Survivor
Frame & no engine various 5 Survivors
Footnote.
From 1912 -1916 Walter Lloyd operated a company with his factory manager as a fellow Director, named Overseas Motor Co. Ltd. with the registered address as 1a Johnstone St., Ladywood, Birmingham.
Johnstone Street was a service alley off the side of the LMC factory and the fictitious 1a was in fact the goods loading-dock of the LMC factory. Overseas motorcycles were identical in every aspect to LMC except for the petrol tanks Decals and the timing gear cover plate that is stamped 'Overseas'. Overseas motorcycles were fitted with Druid patent forks rather than the LMC patent leading-link forks fitted to LMC models, presumably a marketing effort to attract customers who preferred the Druid sprung forks. There are 6 known Overseas motorcycles surviving .
Reference:
"The Classic Motorcycle", April 1988, pp 44-47 "When Walter went it Alone" by Bob Currie
Thanks to Member Ian Bade for providing this article.